Press
Some lovely people have said some lovely things about us. Please have a read.
We are delighted to announce that we are one of only two new entries in Suffolk this year and we couldn't be more proud!
Thank you to all lovely customers for supporting us.
East Anglian Daily Times // September 2019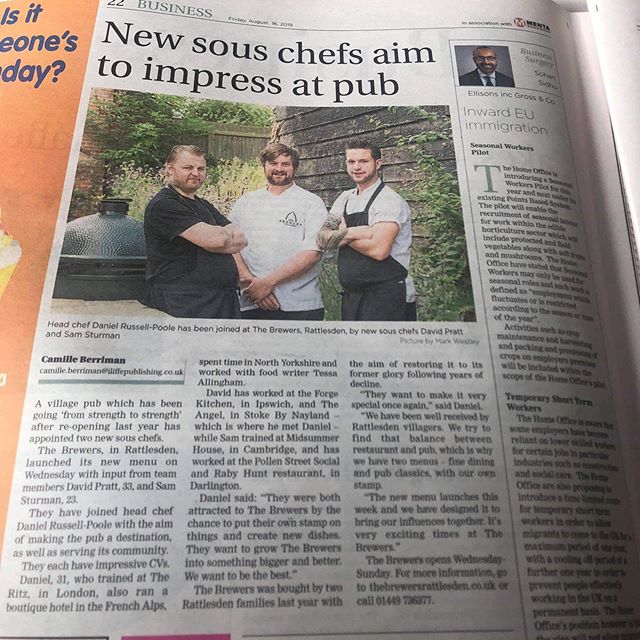 Have you heard the news today?
New Sous Chefs - New Menu
We are delighted to see our two new Sous Chefs, David Pratt and Sam Sturman, featured with our Head Chef Dan Russell-Poole in today's Bury Free Press.
BURY FREE PRESS // AUGUST 2019
"Mark Heath and his wife Liz went along to the launch of the eight-course tasting menu at The Brewers Arms, a Suffolk gastropub making waves on the local food scene. Here's what they made of it".
East Anglian Daily Times // JULY 2019
"I've enjoyed lamb at Le Gavroche, beef at The Savoy and pork at Claridge's, and this was right up there with any of them in terms of quality. Simply one of the best things I've ever eaten. Outstanding."
East Anglian Daily Times // January 2019
"A Pub Full of Surprises"
"Desserts are catwalk-confident. There's a jaunty little flick to the top of a pink and white meringue kiss perched on grenadine-pink, bite-retaining, poached rhubarb. A Chantilly-filled brandy snap topped with discs of rhubarb, and and oblong of rhubarb parfait make for a sassy plate that celebrates… well, rhubarb. It's fresh, fun, of the moment, delicious."
"All this in a little pub in Rattlesden? Whoever would have thought it."
Suffolk magazine // April 2019
Subscribe here.
"The décor in the Pub and Restaurant area is modern, clean, light and stylish, a long way from the previously old tired look. Obviously a lot of thought has gone into this relaunch project."
"The overwhelming response from all everyone was that this was top end high quality Pub Food and we all want to go back and sample the other menus. Pricing is very reasonable for the high quality of food provided we will definitely recommend the all new Brewers in Rattlesden."